| | |
| --- | --- |
| Posted on October 5, 2011 at 6:00 AM | |
It is not so much for its beauty that the forest makes a claim upon men's hearts,
as for that subtle something, that quality of air that emanation from old trees,
that so wonderfully changes and renews a weary spirit.
~ Robert Louis Stevenson ~
For some time we have longed to visit Highlands Hammock State Park here in Florida. We had heard from numerous friends how beautiful the park is and how special. It is the oldest state park in Florida (opened in 1931) and is home to some of the oldest trees - several of them a thousand years old. Highlands Hammock State Park is the result of forward thinking private citizens who set out to preserve this natural area of old growth trees - first as a national park, but when that did not pan out, as the first state park in Florida. So when Dave and I were planning our camping vacation for September, we decided to visit this natural gem. Not only is it a gem, but the crown jewel of the state parks in Florida.
Ancient cypress and oak trees, swamp, pine flatwoods, hammock - key habitats bustling with life and supporting numerous wildlife: bears, deer, bobcats, panthers, birds, reptiles, insects - in the short week that we stayed there we encountered up close and personal: white tail deer, snakes, butterflies, damselflies, turtles, alligators, song birds and predatory birds, squirrels, and raccoons to name a few. Away from city sounds, we heard the barred owls calling out at night, saw clear skies with stars at night and gorgeous sunsets. A haven for nature lovers.
Our camping experience was superb. We were breaking in a brand new tent and this was the perfect place to do it. Campsites were large and roomy and each site had beautiful, large shade trees, picnic table and fire ring. We enjoyed cooking over wood and our fresh coffee and buffalo burgers never tasted better!
A short distance from the campground is the CCC Museum (Civilian Conservation Corps.). Here is the history of the CCC and memorabilia dedicated to the young men who built the parks, roadways, dams and structures. Florida is home to 8 of these early CCC built parks. Our goal is to stay at each park, but so far we have visited three: Hillsborough River State Park, Myakka River State Park, and now Highlands Hammock State Park. We will forever be grateful to the hard work achieved by the CCC program and for preserving such beautiful natural areas for us all to enjoy.

Beyond the CCC Museum are the nature trails into the deep forested area and swamp. There are nine trails altogether - each one featuring unique and different habitat areas. We hiked all nine and returned to several of our favorites again and again. Some of the trees were so huge I could not get the entire tree photographed. The elevated, one-railed catwalk through the swamp was one of my favorites! And of course, we had to hug the 1000 year old oak trees - we have never seen such huge, ancient trees and it was a privilege to touch and hear their story. Several times we played our native american flutes for them - a natural amphitheater made the sound even more eerie echoing through the ancient forest.
Known for their naturally bowed limbs, the ancient live oak trees were prized by early shipbuilders so a lot of Florida's trees were sold for their timber. Walking through Highlands Hammock you get a sense of what Florida looked like before the explorers arrived. Paths are left natural and nature is allowed to balance here. Wild oranges grown among native trees, wildflowers abound, and something new to discover around each bend. The park rangers and staff do an excellent job of keeping the park clean and natural - and one of them gave us an excellent off-road tour of the inner areas of the park- highly recommended if you visit the park.
We will carry this experience in our hearts always and hope to make an annual camping trip to re-visit this amazing and diverse state park. Only next time I will pack along my brushes and paints alongwith my camera! I have placed images under artwork in an album entitled "Highlands Hammock" - take a look there and see a small part of our journey. We left Highlands Hammock with our bodies and spirits renewed and with a grateful heart that this beautiful natural area has been preserved for us to enjoy and explore.
Our new tent and campsite: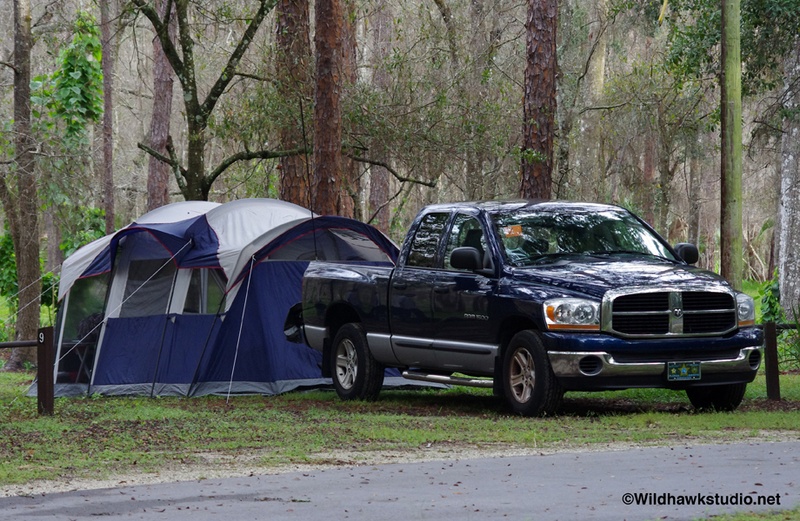 Here I am hugging 1000 year old oak: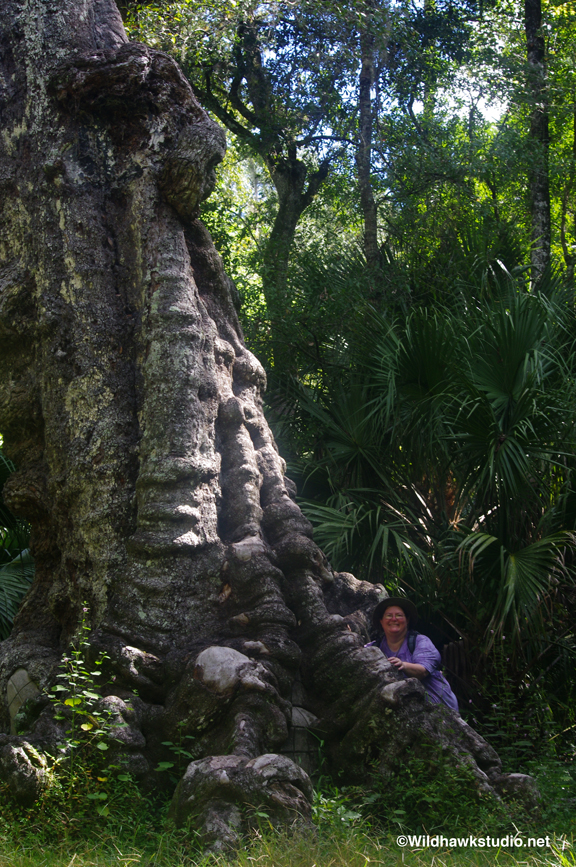 Dave relaxing at our campsite: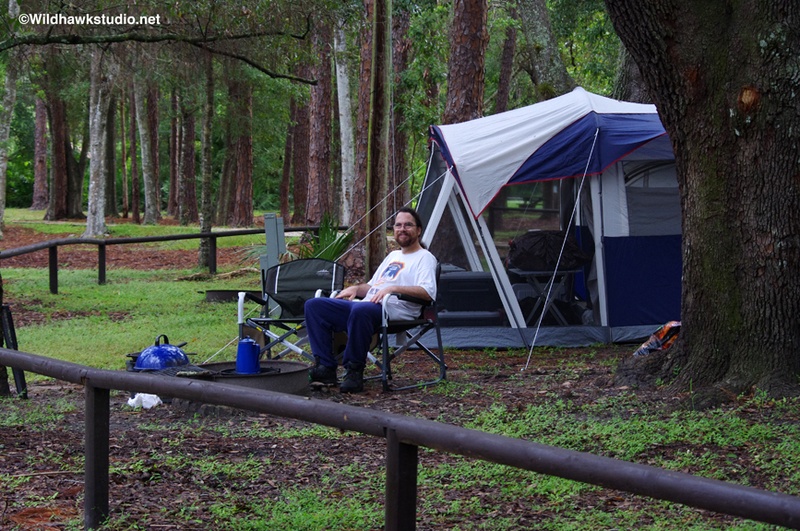 Dave playing a prayer song to the oldest tree: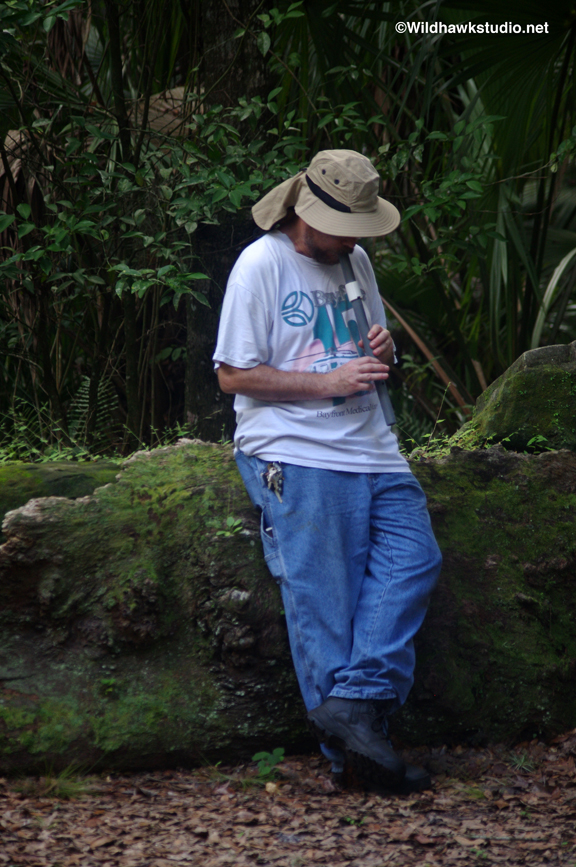 | | |
| --- | --- |
| Posted on August 26, 2011 at 5:20 AM | |
One of the things I love about Florida are the dramatic cloud formations during our afternoon storms. The huge billowy white thunderheads start building throughout the day and by afternoon are at their peak. I love the way the light plays on them and no two formations are ever the same. I take lots of reference photos and most, if not all, of them eventually provide the basis for my paintings. We have been blessed abundantly this past week with gorgeous sunsets and dramatic lighting effects and I look forward to our afternoon walks with camera in hand.
One of my favorite images was a double rainbow we saw outside our home last weekend. It extended across the sky in two arcs - one brighter than the other. Our home is across the street from a bayou, so I ran down to the water's edge and took several images - the sky was still dark from the storm but the sun had started shining and lit up part of the trees as well as provided incredible color in the rainbow. As much as I try and capture nature in my paintings, my best efforts are just an imitation when it comes to the real thing. God is the master artist - and I felt humbled looking at this huge rainbow and marveling over its beauty.
In other news, the 2nd Annual Open House at the Pinellas Park Art Society was a HUGE success! We had close to 300 people come through and see our current show, meet our artists, purchase art and enjoy music and delicious refreshments. My friend Paula and I formed a duo last year - Liluye - pronounced Lee-Lou-Yay - a Miwok Indian name for "singing hawk that soars". So we provided live folk music for the event. It was a lot of fun, and I am very happy to be part of a dynamic, growing organization of incredibly talented folks.
IN THE STUDIO: I am currently working on several projects in different media: acrylics, watercolors and scratchboard. I will be posting up some works in progress pics soon.
I love to think of nature as an unlimited broadcasting station, through which God speaks to us every hour, if we will only tune in.
George Washington Carver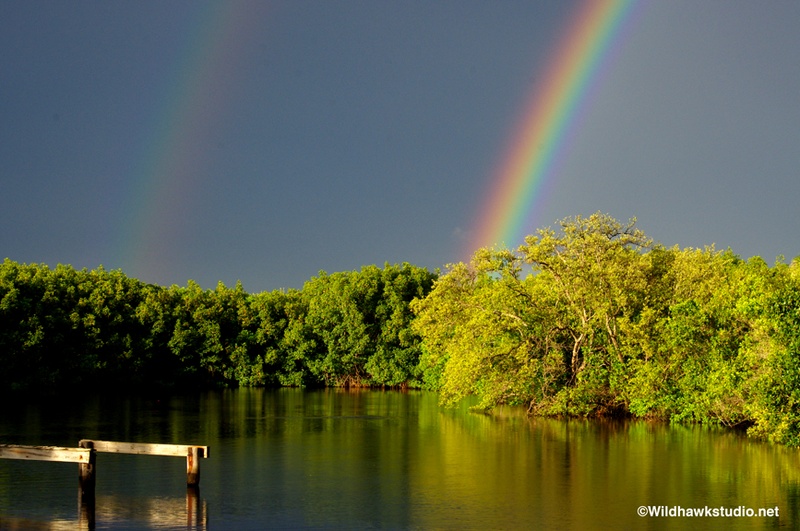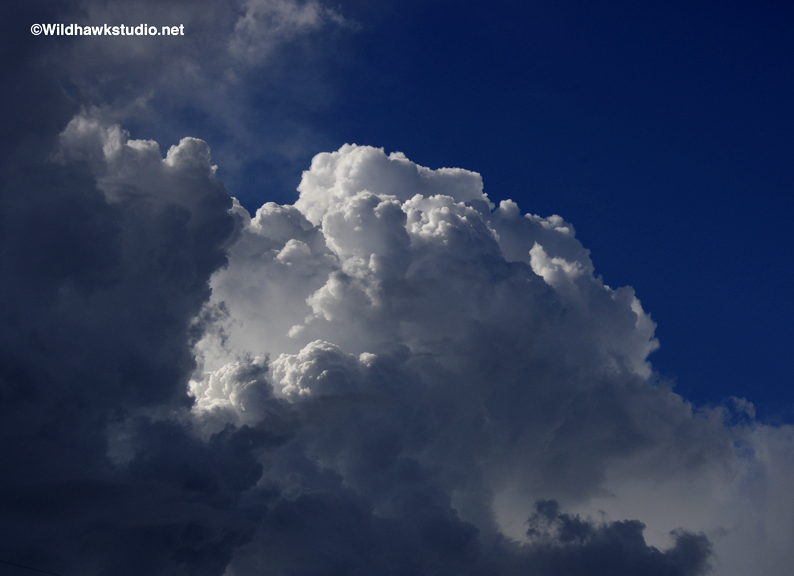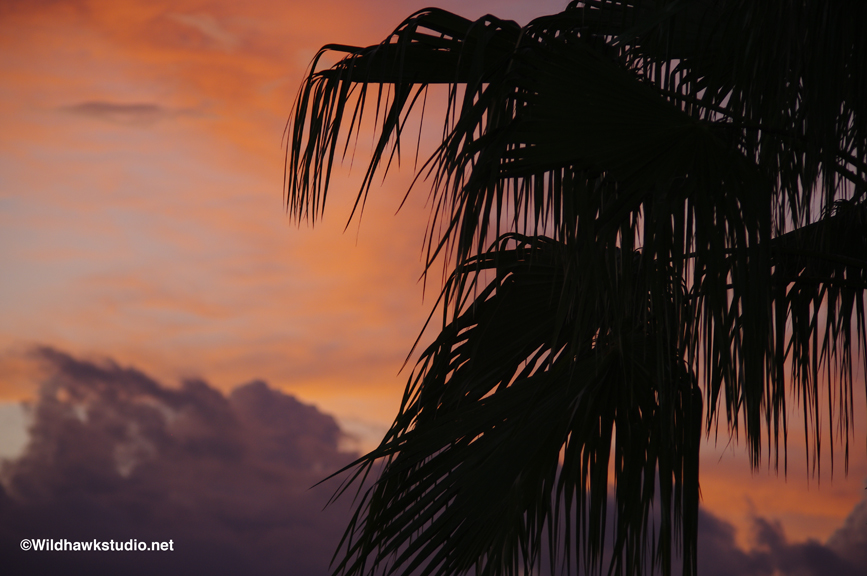 | | |
| --- | --- |
| Posted on August 20, 2011 at 7:10 AM | |
I got out of work early and my husband David and I decided to explore one of our favorite parks, however as luck and Florida weather would have it, the sky started turning dark as soon as we got there. One of the things I like about this particular park is that it offers many places to seek shelter, and once the raindrops started falling we did just that - in an adorable little gazebo with a tin roof. It was so relaxing just sitting there watching the summer shower and talking about things and hearing rain spattering on the tin roof. We watched the entire mating saga of lubber grasshoppers - I took some shots of the male lubber actually smiling. Well, he was actually sensing the female's scent as he approached her, but looked like a big old goofy smile to me nonetheless!
After the showers ended, we enjoyed the rest of our walk and the air was a lot cooler. We saw egrets, tri-colored heron and a myriad of little anoles - and of course the trees and flowers were sparkling with raindrops - beautiful in the late afternoon sun. I was hoping to see a rainbow, but that pic will have to wait for another day. All in all, a beautiful outing - relaxing way to begin our weekend!

This Sunday - August 21 -  is the Pinellas Park Art Society's annual open house - where our artists get to "show their stuff" and invite the public to check out our current show and meet our artists, see demos and sample excellent food as they browse art for sale. My friend Paula Bouseman and I formed a singing duet last year called "Liluye" (Miwok Indian for "singing hawk that soars") and we will be providing the music. I have a couple of original songs that I will be doing and it looks like a fun event to top off our weekend.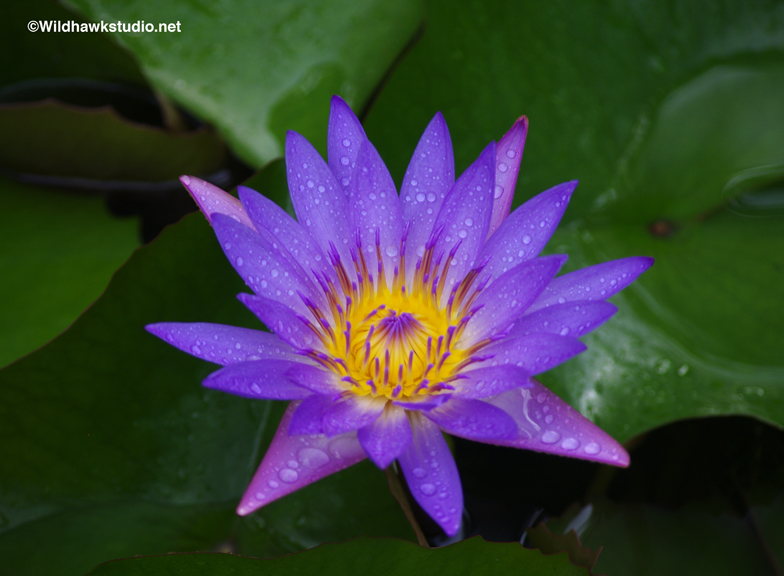 We do not see nature with our eyes, but with our understandings and our hearts.
                                                                                        - William Hazlett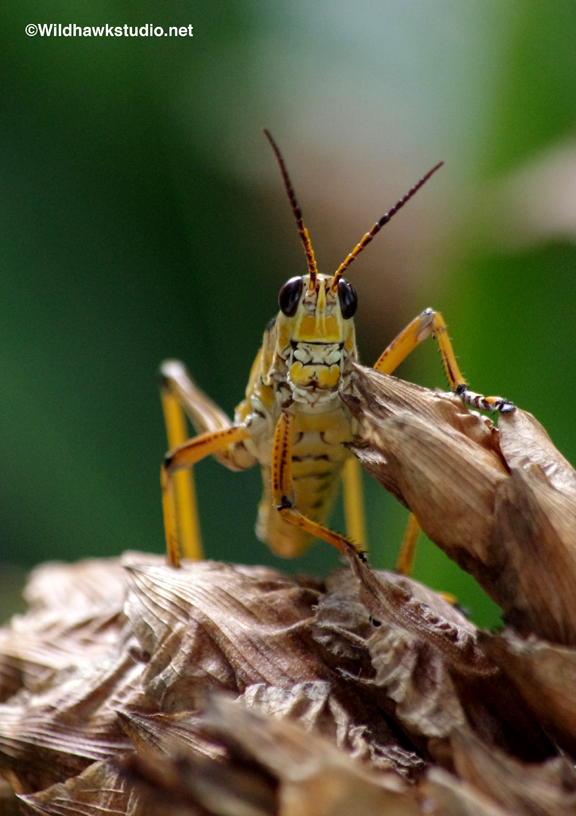 | | |
| --- | --- |
| Posted on August 10, 2011 at 10:15 AM | |
Recovering from a recent knee injury, I decided to take my camera this past weekend and go to one of our local parks and take a hike down one of its many trails. The park is bordered on one side by a huge lake and has several smaller lakes in the interior. The day was beautiful and a nice change from our stormy weather of late. Bright blue morning sky, lots of activity around the lake edges.
Because I was walking so slowly I was not disturbing the early morning feeders - I captured some nice pics of dragonflies, marsh rabbit, herons and egrets and numerous butterflies. However, when I was coming back down the trail that edged the larger lake, I heard the distinctive call of an eagle. It is a loud call, but  many people believe that the redtail hawk's piercing territorial call is the sound of an eagle thanks to Hollywood. The eagle's cry is loud also, but not as long or piercing. Definately distinctive - once you hear it, you never forget it.
I quickly scanned the horizon and finally spotting him soaring horizontally to me - calling out the entire time. I brought my camera up but realized that he was too far away for a decent shot - and then something amazing happened: for whatever reason, the eagle made a sweeping 90 degree turn and came straight towards me! I kept the camera focused on this magnificent bird and took continous images as passed right over my head - I have had eagle encounters before, but not like this one! 
Heart racing, I walked down the trail to see where he went, when he came back again - passing right overhead and back out over the lake. I watched him until he was a dot in the sky and thanked Creator for sending me such a magnificent bird!! Native Americans hold the eagle sacred and say that he is a messenger from Creator. I have no doubt this bird had a message for me - and my spirits were instantly lifted - injured leg forgotten as I could not wait to get home and tell my husband and friends about my encounter!  
This was one of those moments that will never be forgotten. I will carry the image and sound of this beautiful eagle in my heart forever!
NOTE: The eagle I saw was a juvenile - bald eagles do not get their classic white tail feathers and all white head until maturity - usually about age four or five. That is why so many mistakenly identify them as hawks when they are soaring up in the sky.
A very great vision is needed and the man who has it must follow it as the eagle seeks the deepest blue of the sky. - Crazy Horse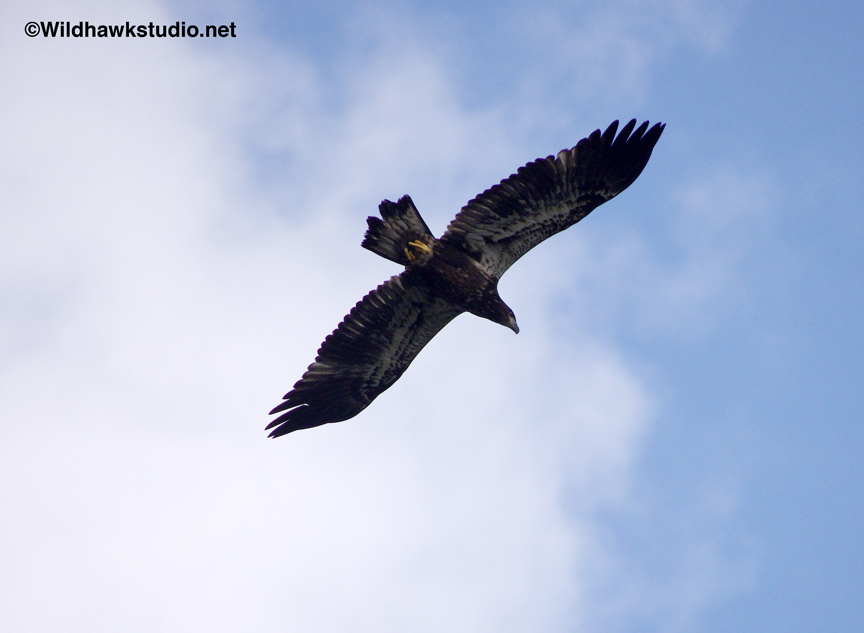 | | |
| --- | --- |
| Posted on August 1, 2011 at 6:48 AM | |
The day was overcast and rainy, but the rain stopped just long enough for a late afternoon photoshoot with one of our good friends, John Hartung of Artthatsmiles.com. John is a professional photographer and when he is home visiting in between art shows and events we always try and get together. We told him about the nesting colony of 200+ black skimmers behind the Suncoast Seabird Sanctuary on Indian Shores, so we met him there and found him doing what he does best: down on the sand getting a better perspective of the birds.
The juvenile black skimmers were actively feeding, flying and skimming along the shore line, although the parents were still bringing fish back for them. It was so exciting to see healthy birds and it was just a few short weeks ago that we had taken pictures of the nestlings and eggs. Now they are sporting flight feathers and have grown so much bigger. Soon, they will be on their own - nature is amazing!
While photographing the skimmers, I noticed an odd pair of terns - not common terns or royal terns, but one of them as immature pestering the older one for food similar to the black skimmer behavior. The older one had a pale yellow tip on the end of its beak. When I got home I looked them up online and they were sandwich terns - commonly seen on marine coasts of the southeastern United States and the Caribbean, the Sandwich Tern is readily identified by its shaggy crest and yellow-tipped black bill.
As sometimes happens when on photoshoots with John, the sky was cloudy and threatening rain, but one of his favorites sayings is: "It will clear up… really!" And despite the cloudy weather, we all enjoyed a great afternoon with nature and sharing stories - thanks John!!
A good friend is a connection to life - a tie to the past, a road to the future, the key to sanity in a totally insane world.  ~ Lois Wyse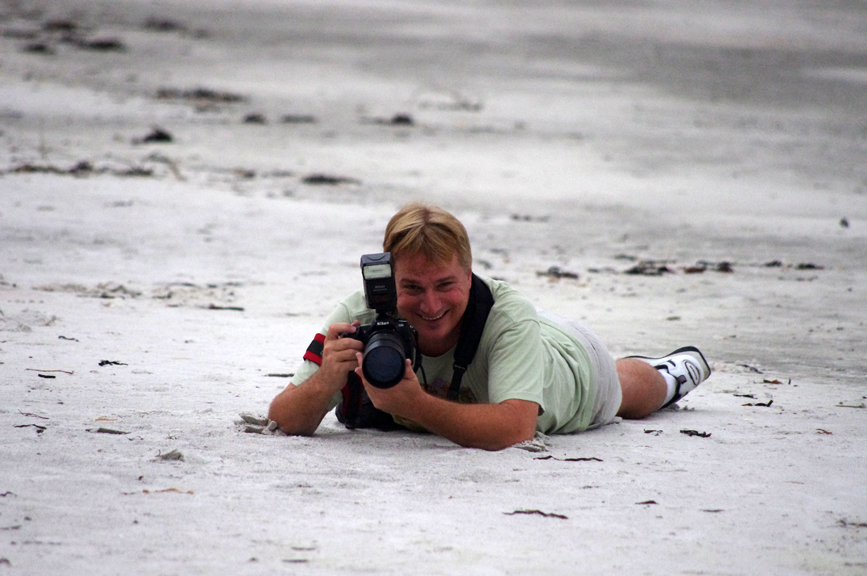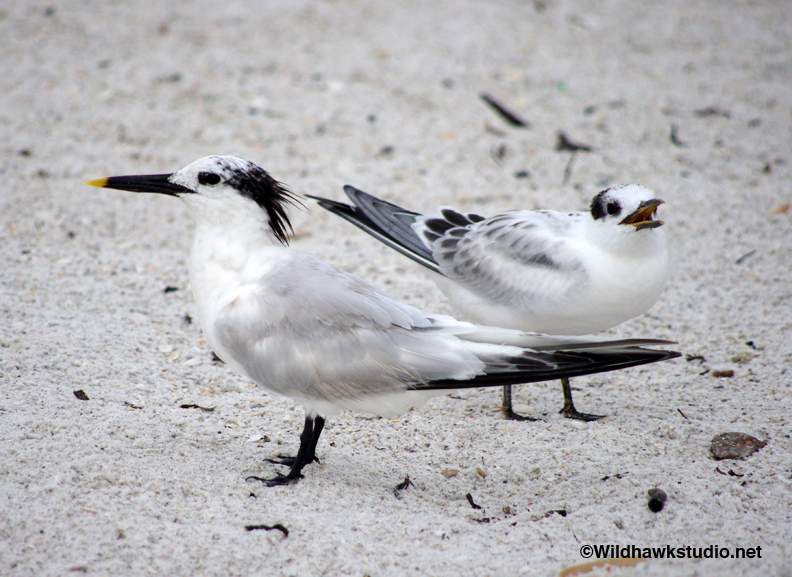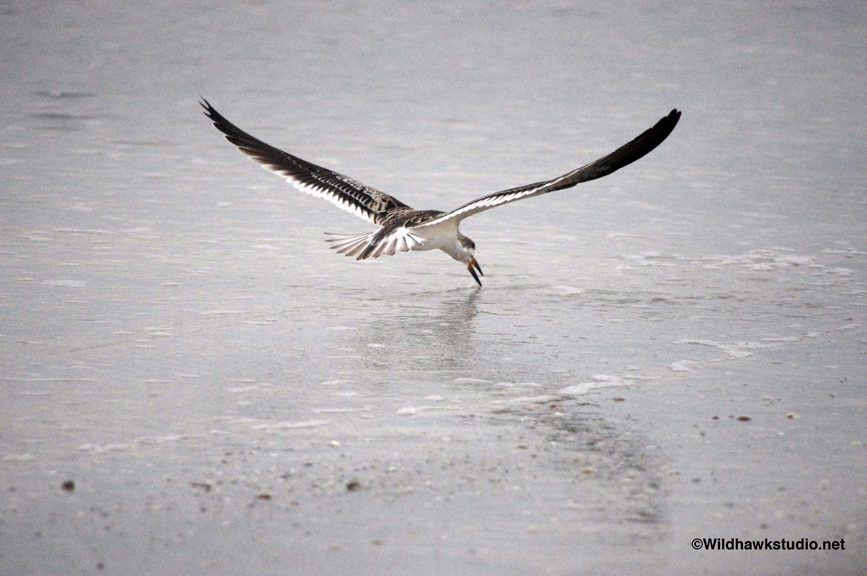 | | |
| --- | --- |
| Posted on July 28, 2011 at 6:04 AM | |
While taking photos at a local botanical garden recently, I came across some odd shaped pods in a cactus garden. They look like something out of a sci-fi movie with their cluster of large, off-white shapes. So yesterday I revisted them and they were open, and much to my surprise filled with green bottle flies - the ones you usually see on roadkill or around garbage dumps. The flower itself was very interesting however, with hairy edges on each leaf and red wavy stripes down to a center core.
When I got home I looked this unusual plant up and it is none other than the stapelia, a South African star-shaped succulent. The hairy leaves and pungent odor attract the flies which in turn pollinate the plant. I did not detect any odor from it, but I am not so sure I want it in my garden!
I love exploring nature in all its forms, and enjoy researching anything I photograph or draw. I am a naturalist at heart and try to teach through my art and photography.
Shall I not have intelligence with the earth?  Am I not partly leaves and vegetable mould myself.  ~Henry David Thoreau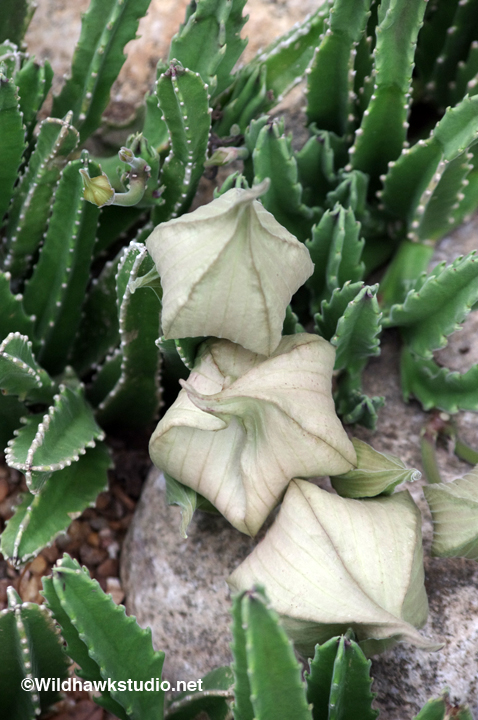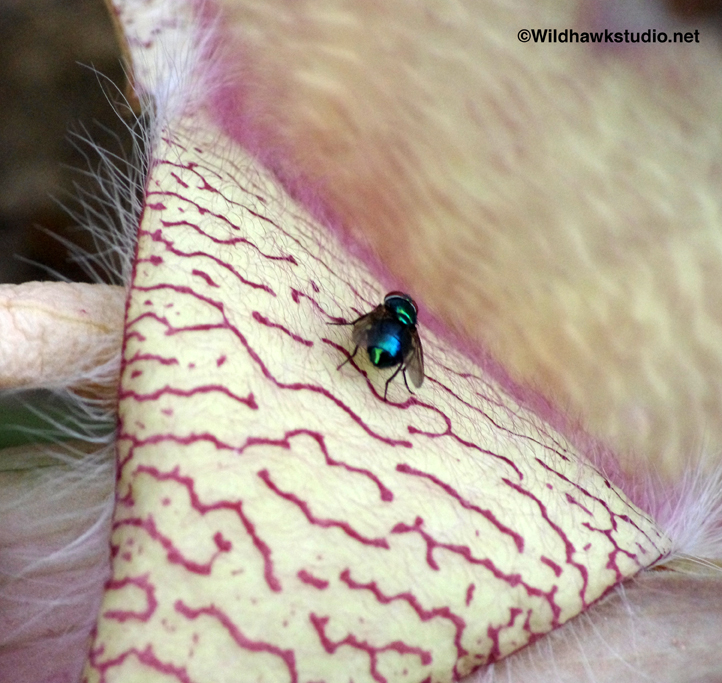 | | |
| --- | --- |
| Posted on July 24, 2011 at 11:29 AM | |
Living in a tropical state has its advantages and disadvantages. There are of course, the threatening tropical storms and hurricanes that plague us, along with fires during the dry season, drought and insects - millions of insects. I wonder sometimes how the original settlers survived Florida. But they did, and without the comfort of air conditioning. Tough folks who endured some tough living conditions.
We have it made today, although I still hear complaints about Florida summers. Our friends ask my husband David and I how we can stand tent camping, hiking and biking in the summer. We are outdoor enthusiasts, and we make sure we have lots of water, sunscreen and bug repellent along. Winters in Florida are wonderful and being a mountain gal I love the cooler temperatures, but summers in Florida are simply too gorgeous to resist. We have so many beautiful flowers, birds and insects to photograph and study that we have to get out and explore as much as possible.
Florida has so many diverse habitats, from oak hammocks to beaches, to primeval looking swamps - and they all work together to make this state a treasure trove for naturalists, artists and photographers. And we are no exception - we get out as much as possible.
Yesterday, we set out on one of our afternoon adventures and a huge storm cell came up. Anyone who has lived in Florida knows that our tropical storms usually come in patterns - early morning or late evening. We have been in a late evening pattern for a while, but the huge storm clouds moving in make the sky very interesting. I love the big white puffy thunderheads against the bright blue sky!
We took just a few pictures in the local botanical garden, but rain and thunder stopped us short, so we grabbed a sandwich and headed down to the ocean and had a picnic in our truck. The storm was raging behind us, but the sunset was peeking out underneath the thundering clouds and reflecting on a peaceful dock and gentle waves in front of us.
Most, if not all, of the photos posted on this website will become part of a painting one day, but I enjoy posting them so that everyone can enjoy the natural beauty of Florida as much as we do - so put on the bug spray, grab a bottle of water and get outside - there is an amazing world to explore!!
Birds sing after a storm; why shouldn't people feel as free to delight in whatever remains to them?
Rose Kennedy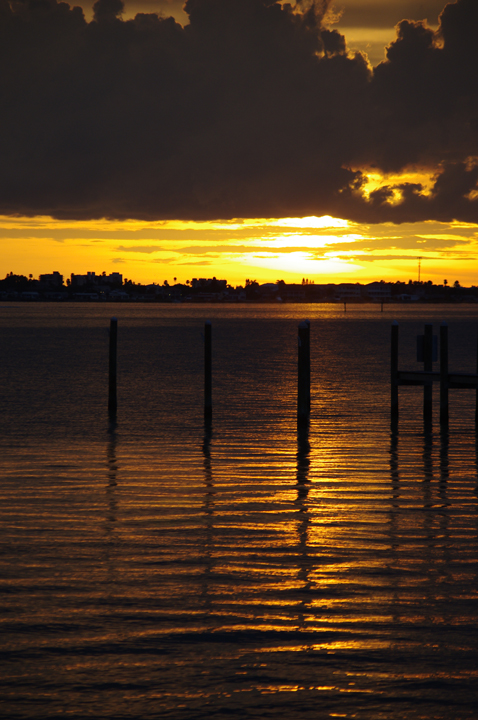 | | |
| --- | --- |
| Posted on July 19, 2011 at 6:34 AM | |
I have many loves in my life: music, art and poetry, but my greatest love is a wonderful husband who shares my interests and loves life and nature as much as I do.  David is an artist in his own right - photographer, videographer, inventor, funny and charming all rolled into one. He said one of his goals was to marry a girl who was an artist that loved nature and the outdoors as much as he did - and the rest is history so they say.
I could not do what I do if not for his love, support and encouragement. He listens to every song I write, every poem, views my works in progress through completion, and offers suggestions and critiques as needed. He even dressed up in his cowboy gear and posed for me in 80 degree Florida heat! Not to mention the hundreds of hours dousing himself with mosquito repellent and slogging through swamps carrying our photo gear!
We have seen amazing things in nature and are looking forward to achieving our goal of owning land and making a nature preserve some day. Meanwhile, we hope to explore as many natural areas of Florida as possible.
So here's to my wonderful husband whose dreams I share - this blog is dedicated to you!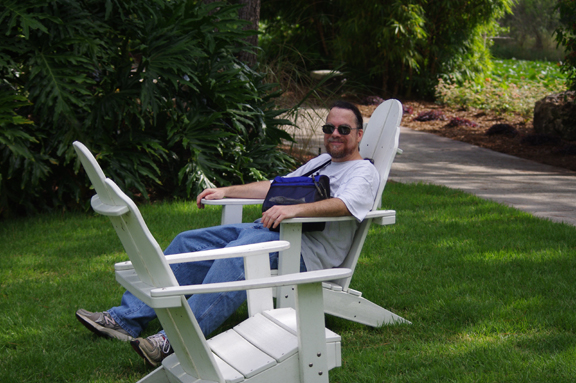 | | |
| --- | --- |
| Posted on July 14, 2011 at 6:46 AM | |
It has been a very busy summer so far - art, music, work - enjoying everything life has to offer! My husband and I are going on some fun camping trips soon - we have a new tent and can't wait to get back out into nature. Florida is host to some of the best parks and natural areas anywhere and eventhough living in the city does not suit either of us, we know that a short drive in any direction will take us to amazing beaches, swamps, hardwood hammocks and state parks.
As a wildlife artist I enjoy observing animals in their natural habitats and taking reference photos. I have started an album under artwork to show some of my images. These will be used for paintings, but can be purchased as enlargements as well. If you are interested in purchasing any of my art or images, please contact me.
In other news, I completed my 10 week watercolor class with Richard Jansen and it was an amazing experience - I changed my love/hate relationship with watercolor into a love/respect one and I am now enjoying painting miniature watercolor paintings. I have started an album under artwork to feature these original, tiny paintings. They are 3.5 by 2.5 inches - also known as ACEOs. I will be doing some in other media as well as time permits.
Yesterday we re-visited an old friend at our local park - my good friend Stubby. He is a little yellow crowned night heron who loves to hang out under a bridge catching crabs. He doesn't seem to mind being watched but will take off as soon as kids or dogs come near. I was glad to see that he is healthy and doing well.
Cheers!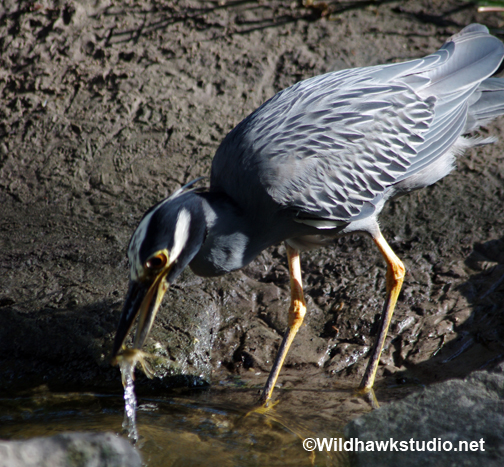 | | |
| --- | --- |
| Posted on May 29, 2011 at 8:34 AM | |
One of the interesting things about living in Florida is the weather. We have a very short winter season and our spring comes usually in February and runs through March into the first part of April, gradually warming up into summer. However, this year it seems as though we jumped from cooler days in March/April directly into the very hot days of summer. It is very dry and hot right now, so I have been spending more time indoors in the studio than I would like, only venturing out in late evenings. However, we have had some gorgeous clouds drifting about and one of the things I enjoy about working in watercolor is rendering clouds, so I have been taking lots of reference shots for future paintings.
My watercolor class on Saturdays is winding down and it has been a frustrating and wonderful adventure. Our instructor, Richard Jansen, is a well accomplished professional watercolorist and has been superb at not only teaching us, but encouraging us as well. I joked with him that I started off with a love/hate relationship with watercolors, then a like/dislike and now I am at the enjoy/challenge phase with them. I recently completed a piece that is a gift for a friend of the Blue Ridge mountains where we both grew up. I have received some wonderful critique on the piece, and while not perfect, it is the first piece I was brave enough to post on my website. I started an album for watercolors and will be posting more as I get more comfortable with this "new" medium.
I recently attended the opening/artist reception of "Possibilities in Pastel V" in which one of my pieces was accepted. It is an annual juried southeastern regional pastel only show and is hanging at the Dunedin Fine Arts Center through June 26th. In conjunction with the Possibilities show, one of the long-time DFAC instructors, Brooke Allison, has a retrospective showing of her work and gave an artist talk regarding her work through the years, and there is also a showing of the DFAC instructors and students - so three shows in one. If you love pastels I would highly encourage you to attend this event. After seeing all the pieces, I felt honored and privileged to have had one of my works chosen to show alongside such amazing works!
In the studio: I am continuing to study watercolors and working on entries for the June Pinellas Park Art Society's show featuring land and seascapes.
Blue Ridge mountain study: