| | |
| --- | --- |
| Posted on February 26, 2012 at 3:40 AM | |
Like a great poet, Nature knows how to produce the greatest effects with the most limited means.
– Heinrich Heine
As a multi-media artist, I enjoy working with a variety of materials - from pastels to paint and everything in between. I love to explore new materials as well and enjoy getting a sneak peak when my art supply catalogues arrive in the mail or online. When the Ampersand company featured their pastelbords, I could not wait to try them out - so I promptly ordered a variety pack of different colors. I enjoyed working on the pastelbords so much that I also ordered a board called Claybord Black - it was developed especially for scratchboard and featured an archival hardboard coated with a thin layer of kaolin white clay and then topped with a black ink layer. 
I had not produced a scratchboard etching since high school - and back then we had to make our own with India ink and our scratch knives would often scrape all the way through the paper backing and ruin the work. So I was excited about scraping this new product, but apprehensive at the same time. What I discovered was not only a surface that could take pressure from the scratch knife, but produced gorgeous effects and was a lot easier to carve, and I was hooked!
While the materials are simple; scratchboard, knives and other specialty tools to scrape the surface; it is still a demanding medium and requires skill, knowledge of the subject and lots of time and patience. A small work can be completed in just a few hours, but some of the larger ones require hundreds of hours. The boards can be left black and white or hand-colored using a variety of materials. The end results are astonishing with their details.
Wanting to share my love of scratchboard, I began teaching scratchboard at my local art society and inspiring other artists to try out the medium - with amazing results! Our next show at the Pinellas Park Art Society is a Teacher/Student exhibition and I am looking forward to seeing my workshop students showing their work - their pieces are absolutely amazing and I am so proud of them! I am looking forward to teaching my next workshop on Saturday, March 10th and periodically throughout this coming year. If you live in the Pinellas County, FL area, please contact me for more info on upcoming workshops. Happy Scratching!
I am thrilled to report that one of my workshop students, Suzanne Gentry, took first place at the show with her excellent portrait of "Sienna" - way to go Suzanne!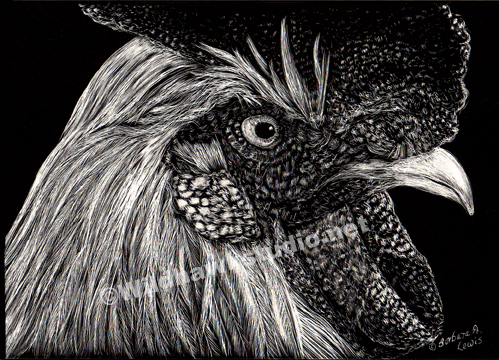 Categories: None