| | |
| --- | --- |
| Posted on August 7, 2012 at 12:20 AM | |
Accomplished artists are those who have proved themselves to be the best at what they do. 'Master' is the title often given to such a person, and rightly so: They've established themselves as worthy of the title through many years of study, and devotion of their lives to their craft. ~ Daniel J. Keys
I have a list of who's who among wildlife artists - people I have greatly admired and studied throughout the years and hoped someday to meet in person. Much to my delight, I was able to do just that at the Plainsmen Gallery in Clearwater, Fl at their 13th annual Wildlife and Western Visions Art Show held April 27th and 28th. Not only did I enjoy seeing their original works, but met quite a few of these great artists - among them, Matthew Hillier, Julia Rogers, Charles Rowe, Travor Swanson and John and Suzie Seerey-Lester.
I have been a long-time admirer of John Seerey-Lester in particular, and enjoyed meeting him and his beautiful wife Suzie - also an incredible artist. I picked up a copy of John's latest book, "Legends of the Hunt" and Suzie's must have book for artists "My Painting is Done, Now What Do I Do?". John and Suzie graciously autographed my purchases, and we had a nice chat before the quick draw began. I asked if John was going to have any workshops coming up and they told me about a masterclass for the summer at their Studio B in Venice, Fl. So of course I rushed straight home and asked my husband if we could go and he was all for it as he knows not only how much I admire John and Suzie's art, but that it would be a great opportunity for me to learn from a master.
So with paints and supplies carefully tucked into a new guerilla paint box (a gift from a friend!), we headed to Venice in July for a four-day masterclass with John and Suzie. I was a little nervous I must admit, but as soon as we opened the door to Studio B and my husband Dave saw a table with wildlife specimens and fresh coffee brewing he joked, "Honey you are going to fit right in!" He knows how I get into nature in my own studio and often have specimens in jars and bits of bone, sea shells, tree branches, etc. lying about.
John, Suzie and Penny gave us a very warm welcome and we settled in for four fabulous, fun and exciting days of learning - John worked in acrylics and oils and showed us various techiques in painting, discussing colors, mixing and his palette. He showed us how he observes wildlife in the field and shared his wildlife field sketchbooks with us - but best of all - he shared his stories of time spent in the bush - with wildlife in various places throughout the world. Direct observation of animals in their native habitat is so important to a wildlife artist - and John has spent many years doing just that - and his passion for wildlife and conservation shows in everything he paints. Each day, he began a new painting - taking us step by step through his process: we learned about weathering techniques, background techniques, brushes and paint techniques, etc. In addition, each of us received a critique of our work - we gained valuable insight about composition, perspective and where to improve.

Alongwith seeing John creating amazing paintings each day, Suzie introduced us to the business aspects of art - we got to meet an expert in giclee printing, an agent that handles licensing, how to frame our art, how to ship and package for shows, organizing and keeping inventory, etc. Suzie's book is definately a must have for artists - I am looking forward to her next one!
On the fourth day, we all got to paint - utilizing what John had taught us. I recently switched from traditional oils to water-soluble oils, so I had quite a challenge with my piece. But it was fun seeing what everyone came up with. John and Suzie offered one-on-one instruction and guidance and I felt especially grateful for their expert advice. By the end of the class, I had taken numerous pages of notes, received encouragement, expert advice and knowledge on what direction to go with my art, and met some of the nicest and most talented artists in the world.
Thank you John and Suzie for sharing so much with us - but especially for your encouragement -  you are the best!!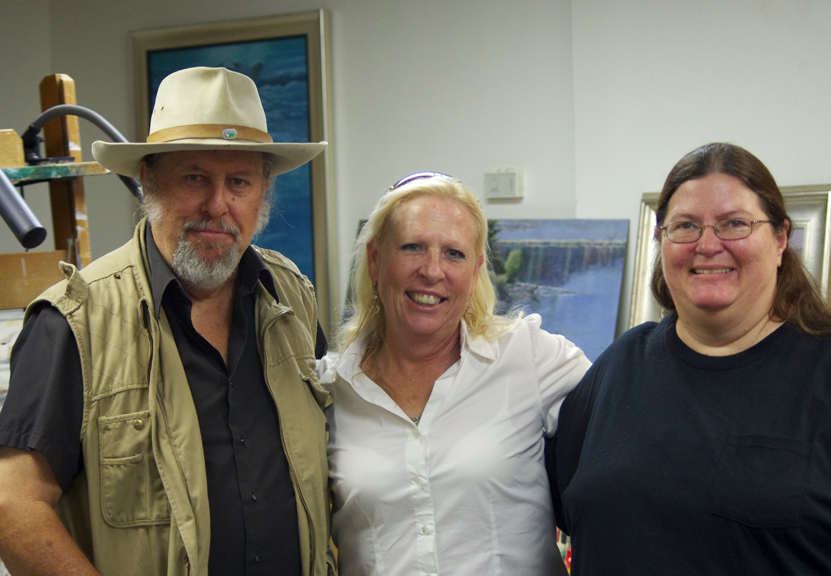 John at the easel: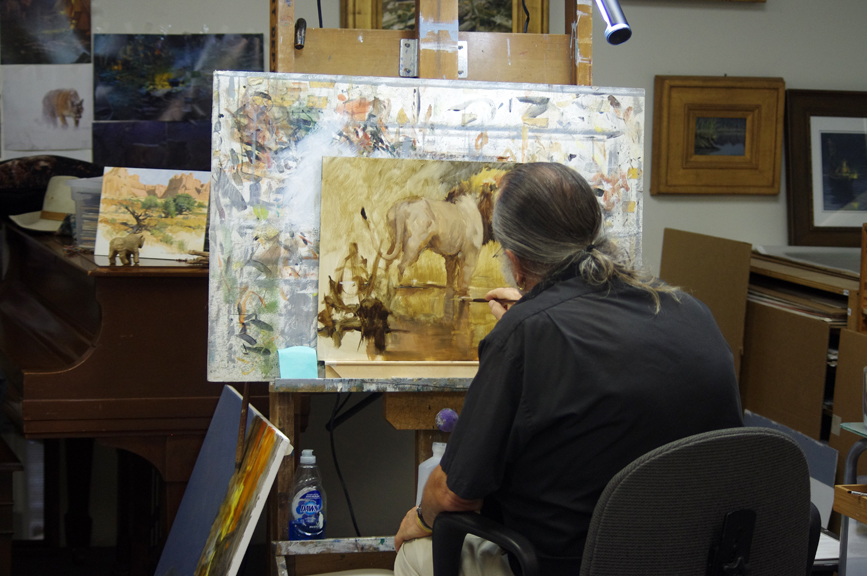 Grizzly bear with snow - acrylics: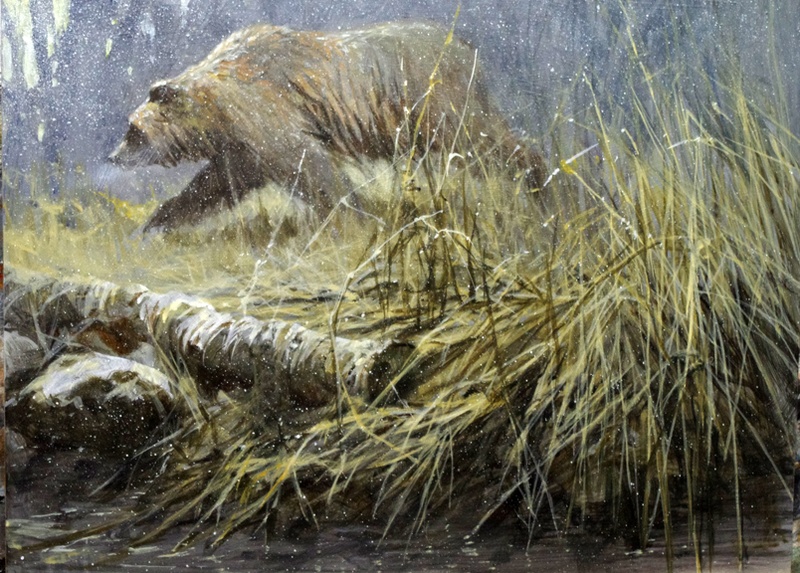 My painting: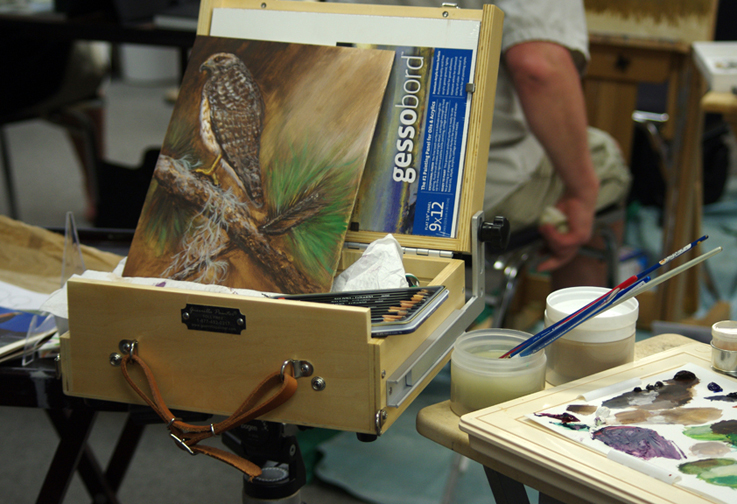 Categories: None