| | |
| --- | --- |
| Posted on January 18, 2014 at 12:40 AM | |
Psalms 30:5: Weeping may tarry for the night, but joy comes with the morning.
Unfortunately, my life froze after my nephew Adam's death in May 2011. Going through the up and downs of the grieving process has taken its toll on me and my husband and our family, but I remember the last words that my precious nephew said to me were: "Aunt Barb, I always said you were the most talented person in our family and I love you". I had hugged him goodby during a Christmas vacation trip to Virginia in 2010, and was devastated a few months later when he was killed in a truck accident the end of May 2011. I continued to pour myself into my work as a graphic artist and dabble at my fine art, but my heart was not in it and so I put my website blogs on hold while we worked through the painful grieving process. I have always turned to my faith and being in nature to heal and with lots of support from friends and family, I starting taking an interest in my art and music again.
So tonight I decided it was time to begin writing again on my blog. So much has happened in the last year and a half that it would take more than this blog to catch up, so I will just put a few thoughts here and make a vow to continue to write about my work and love of nature that inspires my paintings. I will also be making some changes to my website, focusing more on my drawings and paintings, a little less on my photography. After all, my photographs are mainly for my own use as references and not professional quality. I just get a kick out of observing my subjects in the field and trying to record them with my photographs for later use in the studio.
I am still teaching Beginning, Intermediate and Advanced scratchboard at my local art society - the Pinellas Park Art Society in Pinellas Park, FL. And I will be teaching a Nature Journaling Workshop later in the year as part of our drawing workshop series. I also serve as trustee of that organization and I am editor and graphic designer for their newsletter, the Paintrag. I also continue to show my work there as well in the monthly shows.
Each year since I started Wildhawk Studio, I have tried to set goals for creating better art, learning new techniques, etc. In 2011, I was thrilled to be able to attend John and Suzie Seerey-Lester's Masterclass in Venice, FL. They are my heroes!! I learned so much from
them - they are incredible artists and wonderful friends!
This year I will be taking part in British Master Graphite Artist Mike Sibley's drawing workshop hosted by our own local art society - I am so excited about meeting Mike and learning his techniques. He is one of the best graphite artists I have seen and it will be a fun and exciting three day workshop. One of my good friends, Terri Mills, took his workshop last year in Hickory, NC and after she shared some of her experiences, I had to take part in one too!
Also this year I finally started taking lessons in miniature oil painting. Fortunately for me, we have an excellent artist and teacher at our local art society, Annie Dwyer, and I eagerly signed up for her weekly classes. I have only painted 3 miniatures so far as they are quite time consuming, but I love working in oils again. I use the WN Griffin Alkyds and after encouragement from my teacher, I went out on a limb and entered my first and second miniature paintings in the 39th International Miniature Show held annually in Dunedin, FL and hosted by the Miniature Art Society of Florida. WOW! my first ever miniature painting, "Wood Duck Reflections" was accepted into the show!! This show attracts artists from all over the world, and over 1200 pieces are juried and only 800 of these tiny treasures are accepted to be in the show. I am honored to among such awesome talent in this prestigious show!
The show opens this weekend and runs from January 19 - Feb. 9 at the Dunedin Fine Art Center, Dunedin, FL. Hope to see you there!!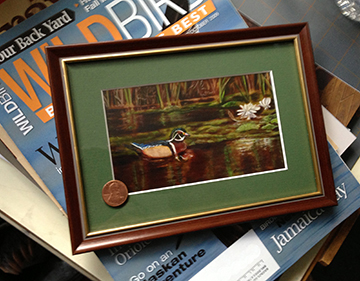 Categories: None