| | |
| --- | --- |
| Posted on December 29, 2010 at 6:08 AM | |
I cannot believe another year has passed, but I am looking forward to an exciting new one! My husband and I enjoyed another awesome Christmas - visiting friends and family and making new memories! I enjoyed working on several Christmas projects, as well as making some homemade gifts from the heart. And I received some awesome gifts as well: my best friend in Wyoming sent me some homemade goodies from her kitchen, some sagebrush and greenery for wreaths, calendars, books and beautiful pictures of her family and Wyoming. She is an awesome artist and I enjoyed seeing pictures of her beautiful watercolors - just wished she lived closer!
In addition, I received some much needed art supplies for the studio from friends, a new easel from my wonderful husband David, and several art books: A book on Birds of Prey, a vintage book on birds with gorgeous illustrations, and Robert Bateman's new book, "New Works".
We are truly blessed to have such wonderful friends and loving family - the best gift is the time spent with them!

My goals for the new year include exploring new art techniques, entering more art events and doing more for conservation. Happy New Year everyone!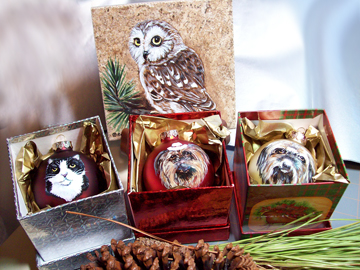 Categories: None