| | |
| --- | --- |
| Posted on January 19, 2011 at 6:32 AM | |
One of the biggest challenges in working in a small space is keeping everything organized. My studio is small (the second largest bedroom in our 3 bedroom home) and over the holidays it quickly became a "catch all" for holiday wrapping, storage, etc. As a result, I barely had room to turn around in there to complete my holiday commissions.
So the first item on my list for the new year was to totally organize my working and storage space. One of my holiday gifts from my husband was a new five tier black shelf that is the same dimension of my storage cabinets - sturdy steel, and each shelf holds 1,000 lbs. Since I work on stones, the strength of the shelves is very important. I was able to fit my two file cabinets on the bottom, which left plenty of storage room on the other shelves.
With the addition of the new shelves, I was able to fit my nature and art techniques library to one of the storage cabinets, and rearrange the second cabinet to house all of my art supplies. So the room is definately more artist "user friendly". I look forward to working in my creative space!
In other news, I have recently joined the Pastel Society of Tampa Bay - a dynamic group of pastelists who show and promote education about the exciting pastel medium. Pastels was one of my first mediums and I love the various effects you can achieve with it. I am looking foward to learning from these professional pastelists!
2011 is shaping up to be an exciting year so far - I am looking forward to many artistic adventures!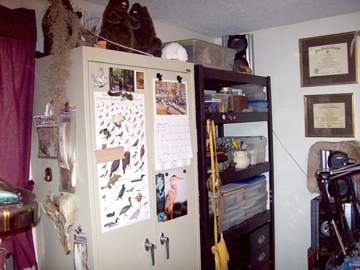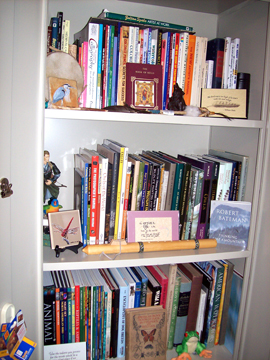 Categories: None