| | |
| --- | --- |
| Posted on January 29, 2011 at 6:40 AM | |
Now that my studio is finally organized, I can relax and get some projects done. I have a few pet portrait commissions to complete and I am currently working on an entry for an upcoming juried pastel only show entitled "Waya" to honor my Cherokee ancestors.
Wolves are one of my favorite wildlife subjects and living in Wyoming in the mid 80s brought their plight into sharp focus for me. There was, and still is, a huge amount of debate about the reintroduction of the wolves into the Yellowstone ecosystem, but it was necessary. I will not debate it here on my blog, but suffice it to say, I am siding with the wolves. We as humans have taken over and destroyed so much habitat that there are not too many places truly wild in the U.S. And the wolf, as one of the last wild symbols of legend and lore, was nearly hunted to extinction and largely misunderstood. It is vital that we try and restore natural habitat as much as possible, and the wolf was a large part of that natural habitat. A balanced ecosystem includes predator and prey - removing one or the other has huge adverse reactions to the entire ecosystem and that includes us humans as well.
I am creating this piece using Ampersand pastel board and using Rembrandt soft pastels as well as Conte pastel pencils. I usually do a very light sketch first, then start working in layers, left to right, blending as I go. However, the first thing I do on all my animal portraits is the eyes. If the eyes are not right, then it is no point in continuing to work on the piece. I wanted to capture the wolf's gaze - one of the most prominent features is his eyes. Then work in the fur - amazing textures and colors. Pastels lend themselves perfectly to capturing both rough and smooth fur textures. I will post up pics of the finished piece on both this blog and in my gallery section under "Pastels".
"WAYA" in progress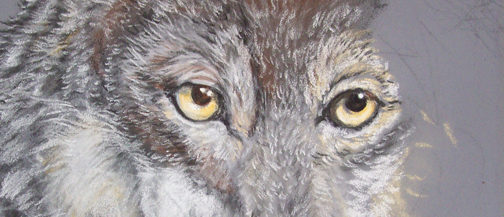 Categories: None