| | |
| --- | --- |
| Posted on February 8, 2011 at 4:37 AM | |
"Waya" is complete and currently hanging in the Pinellas Park Art Society February show, and hopefully will be accepted as my first juried entry in another regional show in March. So now I can get busy on other projects in the studio.
But next up will be a portrait of "Nikki" - a very special puppy with a very happy ending. She was rescued by our local SPCA after someone had cruelly tied rubber bands around her little ears - they were infected and had to be removed. I was thrilled to find out that one of my co-workers had adopted her and she will be a featured guest at a rundraiser for the SPCA. I will be donating a portrait of her for their auction and she is an adorable, playful pup and totally loved by her new owner. I will be doing her portrait in pastel and posting it here on my blog.
I have numerous art projects in various stages of completion in the studio, so I will have a busy few weeks in addition to my full time graphics "day job". One new project I am contemplating will be painting on leather - I have tried my stone paints on several surfaces: glass, metal, tile, wood, but not on leather. I have a very specific wildlife subject in mind as well, and leather will compliment him perfectly. Should be a fun and exciting challenge!

"Waya" complete: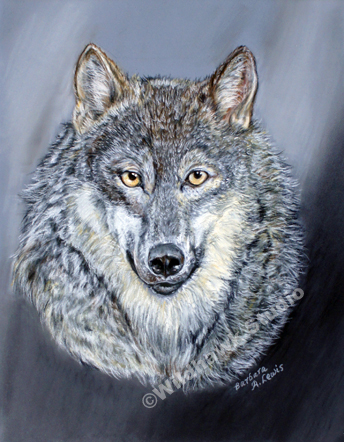 UPDATE: "Waya" won first place in the Pinellas Park Art Society All Media Show, February 14, 2011. I was thrilled to place in this show!

Categories: None