| | |
| --- | --- |
| Posted on March 5, 2011 at 6:11 PM | |
I finished my pastel portrait of "Nikki" this week and presented it to her new Mom - Kelli Chickos -  to donate to the SPCA's 4th Annual Animal Affaire Gala - a fundraiser for SPCA Tampa Bay's Save the Tails Medical Fund. The fund provides desperately needed medical and behavioral care to sick, injured and homeless animals in our community.
When I first heard of Nikki's case in the news, it was absolutely heartbreaking. Nikki was a 3 month old Boxer/Pit Bull Terrier Mix. Someone had decided to "crop" or remove her ears by placing tight rubber bands around them. She was rescued and brought to the SPCA where she had to have her ears amputated - the damage too severe to save them. She spent several weeks recovering and was then adopted by Steve and Kelli Chickos. Kelli is a co-worker of mine and loves animals so much - I was absolutely thrilled to hear that she and Steve had adopted Nikki.
So I immediately asked her if I could do a portrait of Nikki. She provided me with some beautiful photos to work from, and despite her terrible injuries, Nikki has proven to be a very happy little pup and when I was deciding on which photos to use, I could see the love and joy in her huge brown eyes, and her unstoppable spirit.
She is beautiful and very loved, and I am hoping that the funds raised by my donation of the portrait will help the SPCA and I know that Nikki will be an awesome little ambassador to educate the public and hopefully put a stop to this cruel and horrendous practice.

Please support the SPCA any way you can. See the SPCA link under my Links section.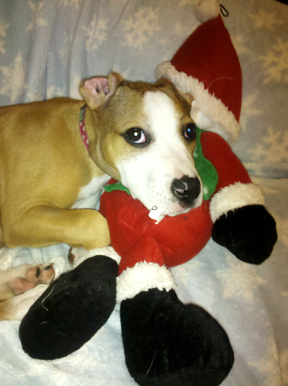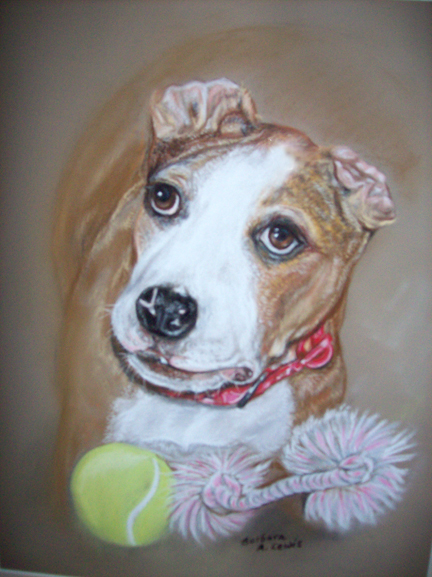 Categories: None