| | |
| --- | --- |
| Posted on April 29, 2011 at 10:37 AM | |
While I someday dream of working "full time" in my dream studio (don't we all) - I am currently working a full time graphic design position and juggling my fine art on the side. It is a challenge, but one that I enjoy. Since I have been in the graphic industry for so many years, I am used to working with deadlines and my home studio is no exception. I constantly set goals for my fine art and one of them for this year was to take more workshops and enter more shows.
I am delivering my first ever juried piece, "One Last Look" to the Dunedin Fine Arts Center this afternoon where it will hang in "Possibilities in Pastel V"  - a regional pastel only show through the end of June - I am so excited!
Currently in the studio I am finishing up several projects and working on my "homework" assignments for my Saturday watercolor class. I have always had a love/hate relationship with watercolors, but with the excellent teaching of Richard Jansen, my respect for the media is growing. I feel very confident with other media, but watercolors have a mind of their own, and are a definate challenge!
One of the things I love doing is painting on stones and tiles. So this week I completed a portrait of "Red" for a dear friend. Red has been her companion for many years and her love and devotion to her dog were obvious - what a blessing we have with our pets! I cannot imagine working in a pet-free studio - I have had everything from hermit crabs to cats and dogs to fish, and they often become available sketch subjects or models for my work.
"An animal's eyes have the power to speak a great language." ~ Martin Buber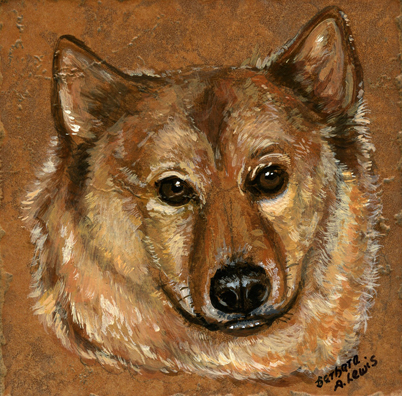 Categories: None