| | |
| --- | --- |
| Posted on May 29, 2011 at 8:34 AM | |
One of the interesting things about living in Florida is the weather. We have a very short winter season and our spring comes usually in February and runs through March into the first part of April, gradually warming up into summer. However, this year it seems as though we jumped from cooler days in March/April directly into the very hot days of summer. It is very dry and hot right now, so I have been spending more time indoors in the studio than I would like, only venturing out in late evenings. However, we have had some gorgeous clouds drifting about and one of the things I enjoy about working in watercolor is rendering clouds, so I have been taking lots of reference shots for future paintings.
My watercolor class on Saturdays is winding down and it has been a frustrating and wonderful adventure. Our instructor, Richard Jansen, is a well accomplished professional watercolorist and has been superb at not only teaching us, but encouraging us as well. I joked with him that I started off with a love/hate relationship with watercolors, then a like/dislike and now I am at the enjoy/challenge phase with them. I recently completed a piece that is a gift for a friend of the Blue Ridge mountains where we both grew up. I have received some wonderful critique on the piece, and while not perfect, it is the first piece I was brave enough to post on my website. I started an album for watercolors and will be posting more as I get more comfortable with this "new" medium.
I recently attended the opening/artist reception of "Possibilities in Pastel V" in which one of my pieces was accepted. It is an annual juried southeastern regional pastel only show and is hanging at the Dunedin Fine Arts Center through June 26th. In conjunction with the Possibilities show, one of the long-time DFAC instructors, Brooke Allison, has a retrospective showing of her work and gave an artist talk regarding her work through the years, and there is also a showing of the DFAC instructors and students - so three shows in one. If you love pastels I would highly encourage you to attend this event. After seeing all the pieces, I felt honored and privileged to have had one of my works chosen to show alongside such amazing works!
In the studio: I am continuing to study watercolors and working on entries for the June Pinellas Park Art Society's show featuring land and seascapes.
Blue Ridge mountain study: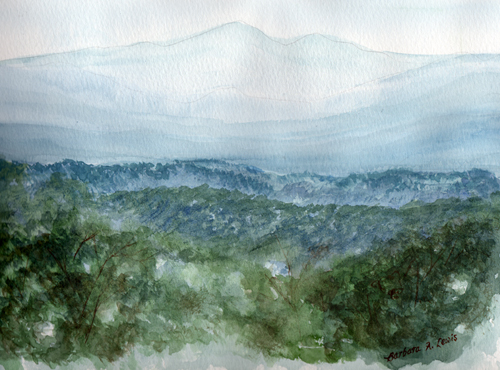 Categories: None