| | |
| --- | --- |
| Posted on July 24, 2011 at 11:29 AM | |
Living in a tropical state has its advantages and disadvantages. There are of course, the threatening tropical storms and hurricanes that plague us, along with fires during the dry season, drought and insects - millions of insects. I wonder sometimes how the original settlers survived Florida. But they did, and without the comfort of air conditioning. Tough folks who endured some tough living conditions.
We have it made today, although I still hear complaints about Florida summers. Our friends ask my husband David and I how we can stand tent camping, hiking and biking in the summer. We are outdoor enthusiasts, and we make sure we have lots of water, sunscreen and bug repellent along. Winters in Florida are wonderful and being a mountain gal I love the cooler temperatures, but summers in Florida are simply too gorgeous to resist. We have so many beautiful flowers, birds and insects to photograph and study that we have to get out and explore as much as possible.
Florida has so many diverse habitats, from oak hammocks to beaches, to primeval looking swamps - and they all work together to make this state a treasure trove for naturalists, artists and photographers. And we are no exception - we get out as much as possible.
Yesterday, we set out on one of our afternoon adventures and a huge storm cell came up. Anyone who has lived in Florida knows that our tropical storms usually come in patterns - early morning or late evening. We have been in a late evening pattern for a while, but the huge storm clouds moving in make the sky very interesting. I love the big white puffy thunderheads against the bright blue sky!
We took just a few pictures in the local botanical garden, but rain and thunder stopped us short, so we grabbed a sandwich and headed down to the ocean and had a picnic in our truck. The storm was raging behind us, but the sunset was peeking out underneath the thundering clouds and reflecting on a peaceful dock and gentle waves in front of us.
Most, if not all, of the photos posted on this website will become part of a painting one day, but I enjoy posting them so that everyone can enjoy the natural beauty of Florida as much as we do - so put on the bug spray, grab a bottle of water and get outside - there is an amazing world to explore!!
Birds sing after a storm; why shouldn't people feel as free to delight in whatever remains to them?
Rose Kennedy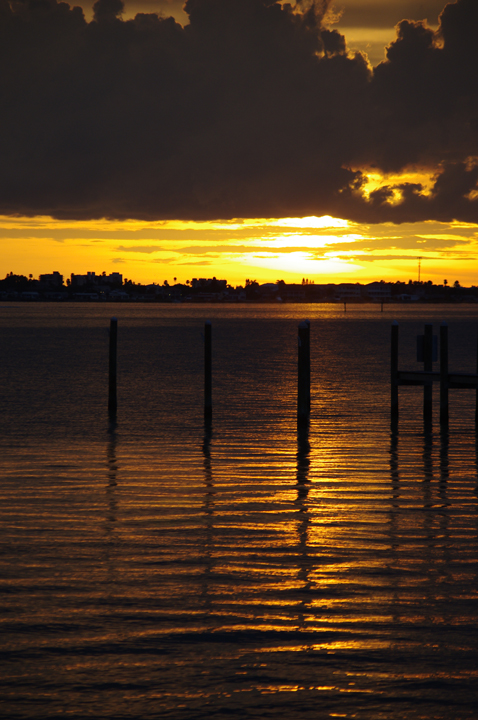 Categories: None