| | |
| --- | --- |
| Posted on October 5, 2011 at 6:00 AM | |
It is not so much for its beauty that the forest makes a claim upon men's hearts,
as for that subtle something, that quality of air that emanation from old trees,
that so wonderfully changes and renews a weary spirit.
~ Robert Louis Stevenson ~
For some time we have longed to visit Highlands Hammock State Park here in Florida. We had heard from numerous friends how beautiful the park is and how special. It is the oldest state park in Florida (opened in 1931) and is home to some of the oldest trees - several of them a thousand years old. Highlands Hammock State Park is the result of forward thinking private citizens who set out to preserve this natural area of old growth trees - first as a national park, but when that did not pan out, as the first state park in Florida. So when Dave and I were planning our camping vacation for September, we decided to visit this natural gem. Not only is it a gem, but the crown jewel of the state parks in Florida.
Ancient cypress and oak trees, swamp, pine flatwoods, hammock - key habitats bustling with life and supporting numerous wildlife: bears, deer, bobcats, panthers, birds, reptiles, insects - in the short week that we stayed there we encountered up close and personal: white tail deer, snakes, butterflies, damselflies, turtles, alligators, song birds and predatory birds, squirrels, and raccoons to name a few. Away from city sounds, we heard the barred owls calling out at night, saw clear skies with stars at night and gorgeous sunsets. A haven for nature lovers.
Our camping experience was superb. We were breaking in a brand new tent and this was the perfect place to do it. Campsites were large and roomy and each site had beautiful, large shade trees, picnic table and fire ring. We enjoyed cooking over wood and our fresh coffee and buffalo burgers never tasted better!
A short distance from the campground is the CCC Museum (Civilian Conservation Corps.). Here is the history of the CCC and memorabilia dedicated to the young men who built the parks, roadways, dams and structures. Florida is home to 8 of these early CCC built parks. Our goal is to stay at each park, but so far we have visited three: Hillsborough River State Park, Myakka River State Park, and now Highlands Hammock State Park. We will forever be grateful to the hard work achieved by the CCC program and for preserving such beautiful natural areas for us all to enjoy.

Beyond the CCC Museum are the nature trails into the deep forested area and swamp. There are nine trails altogether - each one featuring unique and different habitat areas. We hiked all nine and returned to several of our favorites again and again. Some of the trees were so huge I could not get the entire tree photographed. The elevated, one-railed catwalk through the swamp was one of my favorites! And of course, we had to hug the 1000 year old oak trees - we have never seen such huge, ancient trees and it was a privilege to touch and hear their story. Several times we played our native american flutes for them - a natural amphitheater made the sound even more eerie echoing through the ancient forest.
Known for their naturally bowed limbs, the ancient live oak trees were prized by early shipbuilders so a lot of Florida's trees were sold for their timber. Walking through Highlands Hammock you get a sense of what Florida looked like before the explorers arrived. Paths are left natural and nature is allowed to balance here. Wild oranges grown among native trees, wildflowers abound, and something new to discover around each bend. The park rangers and staff do an excellent job of keeping the park clean and natural - and one of them gave us an excellent off-road tour of the inner areas of the park- highly recommended if you visit the park.
We will carry this experience in our hearts always and hope to make an annual camping trip to re-visit this amazing and diverse state park. Only next time I will pack along my brushes and paints alongwith my camera! I have placed images under artwork in an album entitled "Highlands Hammock" - take a look there and see a small part of our journey. We left Highlands Hammock with our bodies and spirits renewed and with a grateful heart that this beautiful natural area has been preserved for us to enjoy and explore.
Our new tent and campsite: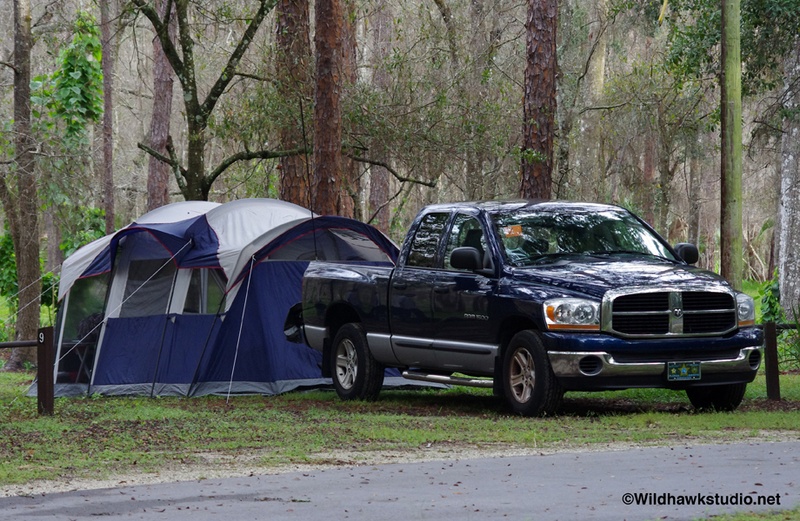 Here I am hugging 1000 year old oak: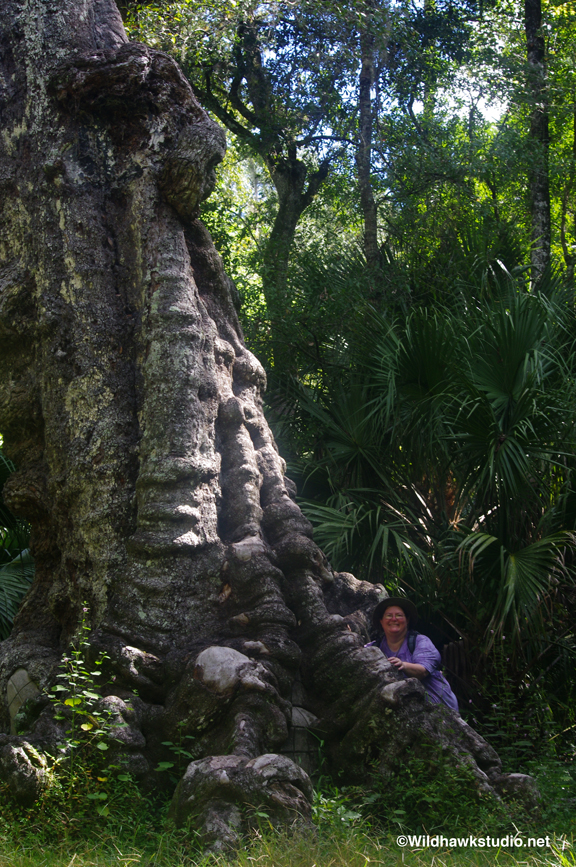 Dave relaxing at our campsite: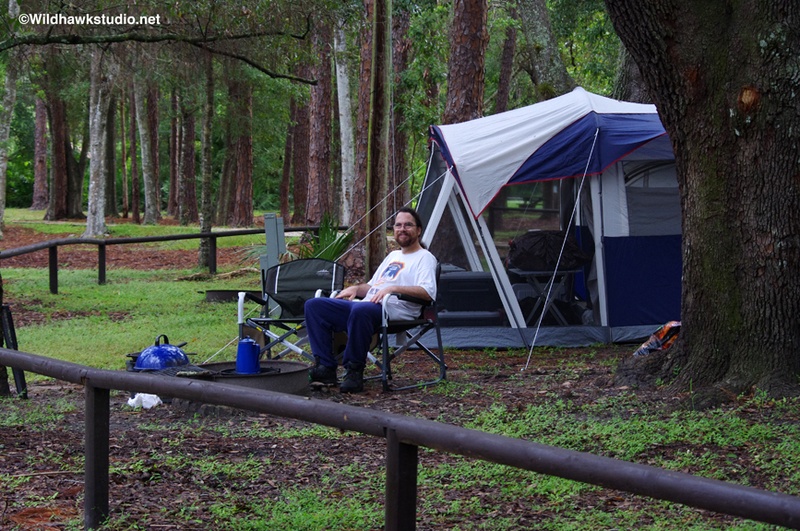 Dave playing a prayer song to the oldest tree: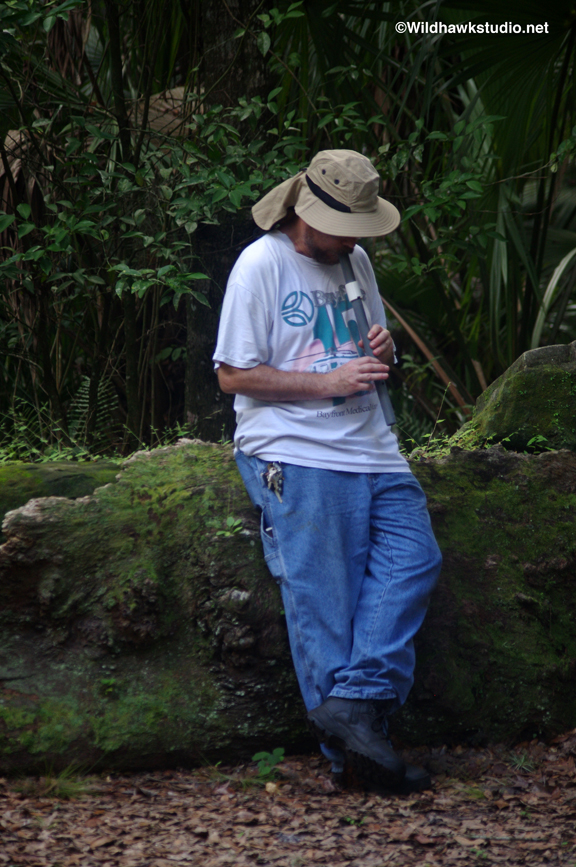 Categories: None