| | |
| --- | --- |
| Posted on July 10, 2014 at 11:15 AM | |
"I have learned that what I have not drawn, I have never really seen"
Frederick Franck (1909 - 2006) Dutch American sculptor
I love adding a quote to each of my blogs - its a jumpstart to my thoughts on what subject I will be writing about - in this case, drawing. I think Frederick Franck sums it up so well - you can take photos of a subject, but time spent is fleeting - quick snapshot or two and off you go, but in taking the time to slow down and really look at it and sketch it, you are learning more about it. I discovered recently while teaching an introductory course on nature journaling/sketchbooks just how many blank pages are in sketchbooks that are lying about my studio, and feeling ashamed that I had neglected them for so long. While I was encouraging my students to sketch each day, I also made a vow to pick up a pencil and get busy and not wait for that perfect time allotment to do some drawing. To that end, I have enrolled in Mike Sibley's Drawing workshop to be held this coming weekend over three days at our local art society - Mike is from England and a world reknowned artist specializing in graphite. I have my pencils and enthusiasm all set to go!
Drawing is basic to all art - I know painters who can paint beautifully, but there is something lacking in their works - poor perspective, scaling of objects, working from multiple references without considering light sources - the list goes on. And while being adept with a paintbrush, some of them had never had any training in basic drawing. Hence, my efforts to introduce my students to two of my favorite subjects - nature and drawing. It is in sketching and drawing that we really learn about our subject - while I enjoy taking lots of reference photos - it is the time spent with the subject, preferably in their world, that teaches me the most about them. And when you know your subject very well, you can do your best work with it.
Such is the case with Franklin, the great horned owl. After suffering a serious wing injury, he was placed at McGough Nature Park and deemed unreleasable and is a permanent resident along with other birds of prey. On one of my first visits to the park, wildlife specialist Kyle brought Franklin out on a glove and I asked if I could take some photos of Franklin - he is a handsome owl and is one of the birds used for education about raptors. One look through my lens at his gorgeous eyes and I was anxious to learn more about him and the other raptors there. That is what led me to book their classroom so that Franklin could be the star of my nature study/sketch class. I then donated all my fees that day to the care of the resident raptors at the park. It takes a lot of care and food to house raptors, so I was glad to help out and will do more in the coming months. 
A lot of my students have not had the opportunity to draw an owl from life and after starting with sketching taxidermy specimens and walking around the park sketching flora and fauna and turtles, wildlife specialist Peggy brought Franklin into our classroom for some study sketches. A lot more challenging than drawing from photographs as he turned and kept looking about the room - I think most of my students were so totally fascinated with watching him and listening to Peggy's talk about raptors that they forgot to sketch - but the main purpose was to encourage my students to look at him and really "see" him - all the subtle colors of his feathers, his gorgeous eyes, his expressions, and Franklin actually thanked us with a soft "Hoot, hoot!" when he took his leave from the perch at the end of the session. 
It is that "learning to see" that is the joy of drawing. Since sketching more each day, I am seeing a lot more depth and colors and bringing more emotion to my drawings. I had recently taken photographs of the performing lippizans from Hermann's Royal Lippizans at a recent event, but one stallion in particular took my breath away - he is a younger stallion and still showing grey in his mane, but is the kind of horse that as a little girl, I dreamed of and would always draw my horses with huge flowing manes and tails. This stallion came into the arena and made my heart leap with joy with his energy and fire. He tossed that gorgeous mane and while performing his "airs above the ground" did not realize that he took my heart with him. While viewing my numerous reference photos I could not decide which one to do, or in what media. I finally settled on portraying him in pastels on Mi-Tientes archival board. But had I not witnessed the event live and met this stallion or seen his mane, would my drawing of him been as rewarding? Maybe technically as I feel I know pastels fairly well, but the spirit and fire was what I set out to capture of this magnificent animal and it is in spending time with my subjects that teaches me not what they are, but "who" they are.
In summary, my main point is this: drawing is one of the most rewarding and intimate contacts when first beginning to study a subject. It is in observing and drawing that we really take the time to look at them, listen to them, spend time in their environment, watch their movements and "capture" them in our emotions and hearts. I will not ever paint or draw something just for the heck of it. But I choose subjects that I have a connection with, and a passion for. NOTE: It is from meeting Franklin that I am now involved with the Friends of the Largo Nature Parks and donating my time and art abilities to help them promote and care for these injured birds. I will be adding a link to their website under links. Lastly, I would encourage parents also to get their kids out in nature as much as possible - you can view butterflies all day on computers, but being out with them among the trees is the best way to learn about them. We are fortunate here to have so many natural areas and gorgeous parks like McGough Nature Park to explore and enjoy. It is never too early or too late to start sketching, observing and learning more about our environment.

Here are the portraits I created of "Franklin the Great Horned Owl" (work in progress pic) and "Lippizan Fire" currently hanging in the PPAS Drawing show in Pinellas Park, FL. I am pleased to announce that "Lippizan Fire" placed second and also received the People's Choice awards in the show.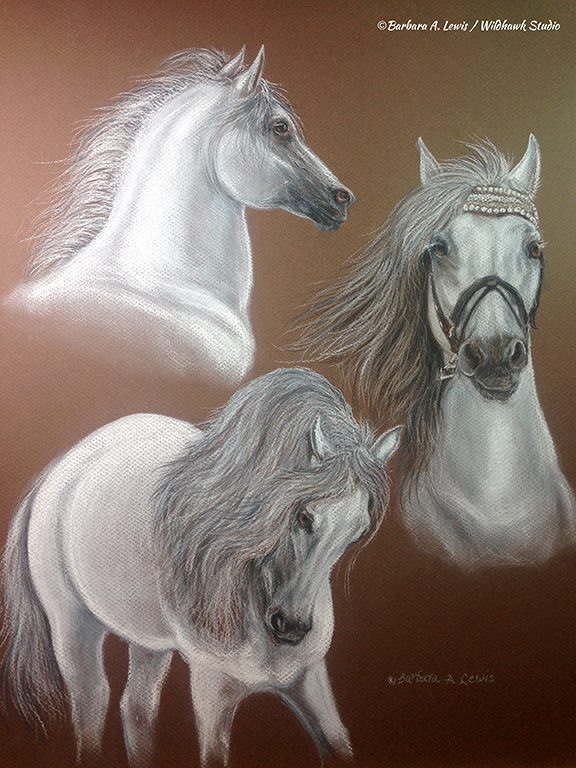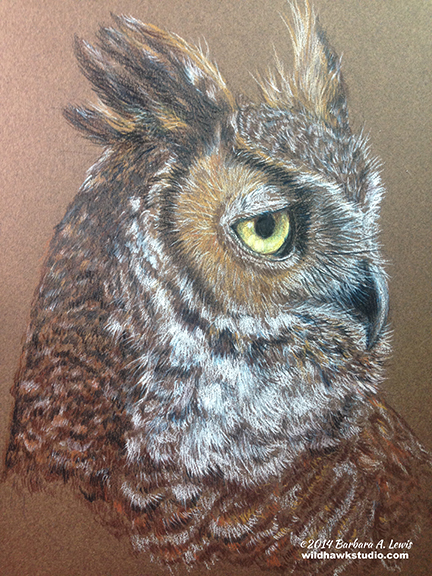 Categories: None