| | |
| --- | --- |
| Posted on July 15, 2014 at 1:00 PM | |
"I firmly believe that you cannot successfully draw what you do not understand, so all
opportunities to sketch from life, or even from photographs, are always worthwhile."
~ Mike Sibley
  I just completed Mike Sibley's "Drawing from Line to Life" workshop held at our local art society and I was absolutely thrilled to learn from such an incredible master graphite artist! Mike and his lovely wife Jenny came over from the UK to present an amazing three day course with hands on, one-on-one instructions and demonstrations and wonderful drawing exercises, culminating in a complete composition using multiple references on the third day. Not only that, but I was introduced to some new materials only found in the UK that worked beautifully. So much so that I will be bidding my favorite kneaded eraser good-bye in favor of Blu Tack. The workshop was so much fun that I was sad when it ended, but came away with quite a bit of newfound knowledge about graphite and cannot wait to draw - those previously blank sketch books are in peril now of being filled!
  Being a largely self taught artist as a child, I was always sketching horses and other animals in the margins of my school notebooks with my trusty old yellow wood encased Dixon pencils. It was not until my mama bought me a drawing kit from Joh Gnagy in fourth grade that I even realized that there were different grades of pencils and even then, I would avoid harder lead pencils because they did not go dark enough for shading. I favored charcoal over graphite for this reason and only used pencils to sketch. I turned to pastel pencils in high school and college and colored pencils for sketching. I used clutch lead holders in college to mockup design sketches, but it wasn't until I started studying graphite works by artists like Mike Sibley, Alan Woolett, Ryan Jacques, and others that I wanted to know more about graphite techniques.
  One of my friends at our local art society, Terri Mills, had taken one of Mike Sibley's drawing workshops last year in Hickory, N.C. and when she brought back some of her materials and showed me his book and prints I was totally fascinated by his work. She arranged with Mike for our local art society to host his workshop and I immediately signed up and ordered his book, "Drawing from Line to Life". Mike and his wife flew over from the UK to three different workshops - one in Toronto, Canada, Eu Claire, WI and then to Clearwater for our workshop. What an incredible experience!! I learned so much in three days - and Mike immediately put us to work with hands on, individual instruction, and each day was fun and exciting!! In addition, I met some wonderful friends who also attended from as far away as Arkansas, Louisiana and Texas and several from our area.

  Mike's course exercises are fun to do and each day we worked on various methods and techniques for shading, negative space drawing, perspective and composition utilizing multiple references. He provided us with everything we needed for the course - Staedler drawing pencils in various grades, sharpener, Mellotex drawing paper and my Blu Tack for erasing. The mellotex paper is super white and an incredibly strong paper - it can be subjected to a lot of pressure and erasing without tearing. It is only available in the UK, but well worth the cost. It can be ordered directly from Mike - I have his link added under links. He also introduced us to Blu Tack - which is actually a poster putty, but much more versatile than kneaded eraser. It picks up graphite but does not lay it back down, so no smearing. It is also very useful for doing highlighting techniques which Mike demonstrated. I have news for my trusty old kneaded erasers - they will be sculpted into tiny gray elephants and blu tack will be their replacement as my primary eraser from now on!!
One of the joys was seeing Mike's gorgeous art which he also had on display. I could only get one print and it was a very hard choice. But I chose a print of his Gordon Setter to adorn my studio wall - they were all beautiful and seeing them in person is the way to go - I told Mike that photographs do not do them justice. These dogs are so full of life that you expect them to give you a puppy kiss and a bark! On a side note, our good friend Jack, the owner of Roe's Deli in our building who had provided us two days of delicious lunches, brought his darling little dogs by for a quick visit - it was obvious seeing Mike with them how much he adores dogs and he promptly got a puppy kiss from one of them. Mike and Jenny joked with him that if he did not see them end of the day that they would be on a flight to England!
Overall, it was an absolutely delightful experience and I want to thank Mike and Jenny from my heart for their well organized, fun-filled workshop! It was wonderful to spend time with them and I look forward to seeing them again in the future. Besides, I promised Jenny I would come see her darling miniature donkeys so we will be saving up for a trip to the UK soon! Cheers!!
Jenny, Mike and I: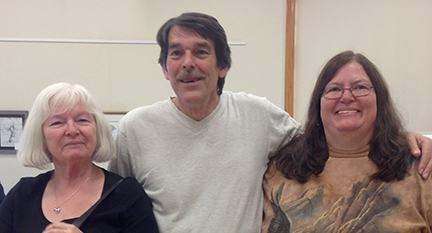 My third day composition in progress: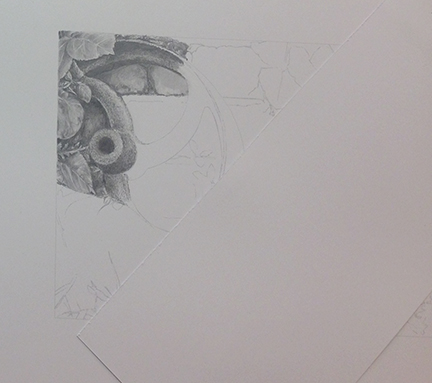 Mike receiving puppy kisses: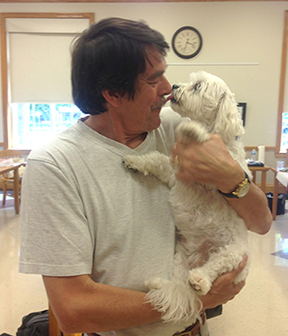 Mike's beautiful Gordon Setter: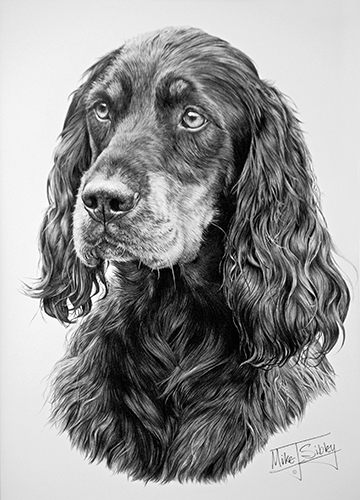 Categories: None